I am excited to announce the Nu Skin Black Friday 2023! 🖤✨
I give you all the information below to make sure you don't miss out on this truly unique offer from my favorite beauty brand. Yes, Nu Skin never offers such strong discounts more than once a year!
So now is the time to splurge on the products you've been wanting! 🤩
*Do you live in a country other than the United States? No problem, contact me on opheliesjourney@gmail.com so I can send you a registration link for your country.
Essential information about the 2023 Nu Skin Black Friday
🗓️ Dates and times: Wednesday, November 22 at 12:00 PM Mountain Time to Monday, November 27 at 11:59 PM or while supplies last.
📦 Free shipping on all orders over £99.
💳 You have flexible payment options if you want to: you can pay in 4 interest-free payments with Klarna, or get your products now and pay later in 30 days.
Black Friday Offers on Nu Skin products with prices for the US
15% off LumiSpa iO + any LumiSpa Cleanser Bundle both blue and rose gold): Does this device still need an introduction? ageLOC LumiSpa iO inputs smart skin care and outputs the skin of your dreams. Input innovative skin renewal and deep cleansing with intelligent coaching, personalized regimens, IoT technology through the Nu Skin Vera app. Output gorgeous, glowing, selfie-ready skin. In just two minutes, twice a day, you'll experience your best skin ever. $216.75 instead of $255.
20% off LumiSpa Accent head + IdealEyes Bundle (both blue and rose gold): Just 30 seconds on each eye area provides immediate hydration, visible firming, brightening, and smoothing to stop the look of tired, stressed eyes in its tracks. It' s the perfect routine to help with those less-than-ideal signs of a busy life around your eye area. $92.80 instead of $124.
20% off all LumiSpa iO Heads (both blue and rose gold): Those treatment heads are made of nonabrasive silicone and work specifically with your ageLOC LumiSpa iO device at the precise frequency needed to promote skin renewal and remove impurities. $38.40 instead of $48.
20% off Facelift Powder with Activator: Face Lift works immediately to temporarily lift and tighten the face and neck for a firmer, more youthful appearance. $36.80 instead of $46.
Buy 2 get 1 Nu Skin 180º AHA Facial Peel and Neutraliser: The AHA Facial Peel discs help to reduce the signs of aging and stimulate cell renewal to brighten and smooth your complexion. The Neutraliser discs are designed to limit topical sensitivity, for a radiant complexion. $134 + 1 free ($67).
Buy 2 Pharmanex Cortitrol Get 1 Magnesium FREE: Pharmanex Cortitrol promotes healthy cortisol hormone balance and supports your ability to respond to stressful situations more calmly. Pharmanex Magnesium is a convenient chewable that can be taken anytime and supports healthy bones, muscles, heart function, and your mood. $116 + 1 free Magnesium ($23).
Buy 2 Tegreen 97 (120ct) Get 1 FREE: Tegreen 97 includes Catechins found naturally in green tea which are shown to support healthy cell function and structure by neutralizing harmful free radicals. $182 + 1 free ($91).
Buy 2 Nu Biome + 2 Nu Ease and Get 1 FREE Frother: Pharmanex Nu Biome is a delicious powder mix-in that helps support the vital intestinal balance with a powerful dual-action solution of pre- and postbiotics (1 Nu Biome with caffeine, and 1 caffeine free). Nu Ease is a safe, gentle, non-laxative digestive aid to help ease gut discomfort and support bloat relief, formulated with natural plant extracts. $200 for the bundle + 1 free frother.
Four Shaded of Pink Powerlips + FREE Cosmetic Bag: This ultra-long-lasting lip color contains a special blend of skin-nourishing ingredients to help soothe, smooth, and prevent dry-out over time. $105 + Free cosmetic bag.
Nu Colour Lash + Brow Serum and Curl & Lash + FREE Cosmetic Bag: Gain visibly longer, thicker, fuller, and shiner lashes and brows in as little as 4 weeks with this Lash + Brow Serum. And enhance the voluminous look of your eyelashes and help create a beautiful shape with Curl & Lash Mascara. $87 + Free cosmetic bag.
Nu Skin 10 Days of Gifting Holiday Calendar: Get your hands on an awesome calendar full of Nu Skin beauty products. $248 for a $400 value.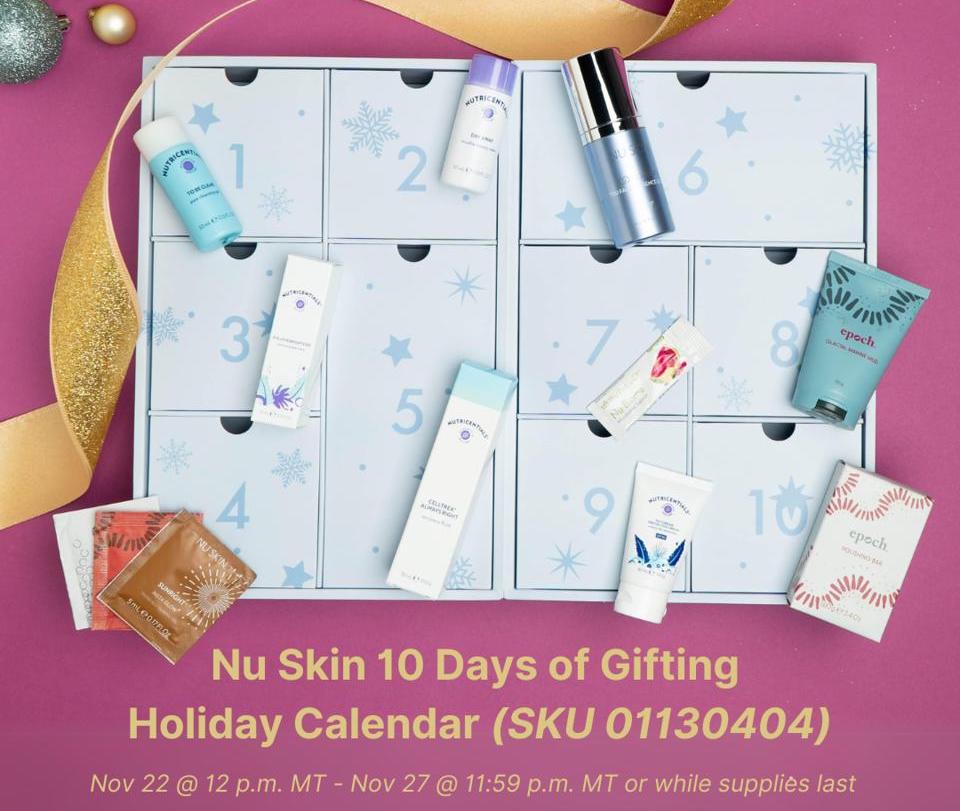 And last but not least…
Get a FREE K-Beauty Black Eyeliner with every $250+ order: From every day casual wear to a dreamy, winged tip, define your line with Nu Colour Liquid Eyeliner. Worth $25.
How to take advantage of the Nu Skin Black Friday sale?
Create a Nu Skin account using the following link or the button below so that I can be your beauty consultant: https://nskn.co/Qc5j2T
Click on this link to access the offers directly… and add the products you want to your cart!
How to prepare in advance to make sure you can buy the Black Friday products?
Attention, experience speaks, stocks go very quickly and you won't all be able to take advantage of them if you're not among the first to place an order! I highly recommend that you:
Connect to the account you created with me before 12:00 PM.
Add the products in question to your cart, always before 12:00 PM.
If you're in a queue, don't refresh the page… a little patience. 😊
🔔 Do you want me to send you a personalized link with the products of your choice to put them in your cart with one click at 12:00 PM? Leave me a comment here or send me a message on opheliesjourney@gmail.com to tell me.
Do you want to know more about the products on sale?
You can leave me a comment under this article so that I can contact you by email, or write to me directly on opheliesjourney@gmail.com to ask me your questions and I will be happy to advise you!