So, why are so many people talking about LumiSpa? What makes this electric facial cleansing brush so different from all the others available on the market? Are the benefits really as amazing as people say? If you find yourself reading this article, I can assume you're wondering some of the same things as me about Nu Skin's LumiSpa!
First of all, if you are not familiar with this brand and want to find out more, you should check out one of my previous articles where you can read my review of the Nu Skin products. It's been five years since I wrote this article, and to this day I still swear by the Nu Colour Curling Mascara and Epoch Baobab Body Butter, which just goes to show how satisfied I am with Nu Skin's products! 😍
*At the end of the article, I will show you how to order your own LumiSpa! But if you already know how, you can go ahead and create your account just here. 👈
---
Special Offer on the LumiSpa

💖

I have a big surprise for you… 🎁

📧 Leave a comment below or send me an email on chloesjourney@outlook.fr to enjoy an exclusive discount!
---
What is the LumiSpa from Nu Skin?
Quick answer : LumiSpa is a complete care device that cleanses the skin on your face. It can be used by both men and women.
Detailed answer : This pretty little device is both rechargeable and waterproof. Its counter-rotating head has been specifically designed to ensure maximum contact with your skin.
Why use silicone for a facial cleansing brush? Because this material is more hygienic than the bristles found on other facial brushes and is also easier to clean and replace.
LumiSpa's patented Two-Sense Motion technology cleanses and revitalises skin. The precise frequency and movement of the device have been specifically designed to work with Nu Skin's two specially formulated cleansers : Activating Cleansers and IdealEyes.
What are the benefits of LumiSpa?
There are so many ! The number one benefit is of course younger looking skin or maintaining your skin's natural youthfulness if, like me, you start to use this product before signs of aging appear.
💡 And since numbers often speak louder than words, here are the results of a study carried out by Nu Skin :
Skin is 37 % smoother after just one use
Skin is 37 % softer after just one use
Skin appears twice as clean after 12 weeks
Skin is 62 % more radiant after 12 weeks
Appearance of pores is reduced
Skin is clearer and more radiant
Complexion is found to be visibly fresher
⚠️ Here, I should point out that the LumiSpa isn't designed to treat sagging skin. While it can improve the skin's elasticity, if you want a product that will really improve this aspect of your skin, as well as reduce fine lines and wrinkles, the Facial Spa is another fabulous Nu Skin technology that will better fit your needs.
How to use the cleansing facial brush
Apply the cleansing gel to your skin and use this device for two minutes, twice a day. The « smart » device prompts you after 30 seconds to move to another area of your face.
As we all know how important it is to use technologies correctly in order to achieve the desired results, I have decided to offer :
Free Nu Skin beauty consultations. These will take place via Zoom and give you the opportunity to talk to a skin care professional who can give you great advice and tips 💻💄
Free personalised support 🆓
If you'd like to sign up for either of these, leave me a comment below or send me an email at chloesjourney@outlook.fr.
Which LumiSpa kit is best for you ?
To avoid any confusion, there is only one model of the LumiSpa facial cleansing brush, but when placing your order, you will be asked to select a kit containing a brush and the cleanser that best suits your skin type.
There are a total of 5 LumiSpa kits :
ageLOC Lumispa kit for normal skin or a combination of skin types
ageLOC Lumispa kit for dry skin
ageLOC Lumispa kit for oily skin
ageLOC Lumispa kit for sensitive skin
ageLOC Lumispa kit for blemish prone skin
I should also point out that the silicone head included in these kits is suitable for all skin types. However, if you're looking for a product that can fit your needs even more closely, you can also choose from :
Lumispa silicone head – firm which is best used with the ageLOC Activating Cleanser for oily skin.
Lumispa silicone head – soft which is best used with the ageLOC Activating Cleanser for sensitive skin or blemish prone skin.
Accent: eye care
For the delicate skin around your eyes, Nu Skin has created another type of attachment : Accent. For those of you with dark circles, puffiness, tired looking eyes or droopy eyelids, this attachment, best used with ageLOC LumiSpa IdealEyes, will become your new closest ally! It revitalizes and exfoliates this sensitive area under your eyes to leave it looking visibly tighter and firmer.
If you already have a LumiSpa device, you can purchase this attachment separately.
How much does Nu Skin's LumiSpa cost?
I am not allowed to disclose the price of the LumiSpa and its associated products here so I invite you to reach out to me by email: chloesjourney@outlook.fr
Can LumiSpa be used on other parts of the body?
No, the LumiSpa can only be used on the face, it was not designed to be used on other parts of the body.
If you want to improve the quality of the skin on the rest of your body, reduce cellulite and get rid of stretch marks… You can use the Galvanic Body Spa which has been designed for this purpose.
My review of the LumiSpa cleansing brush
Considering how long and detailed this article is, you can probably guess that my review of this brush is extremely positive! 💙 Honestly, this product had me convinced after the first usage, and since then, I've used it every single day.
As a woman under the age of 30 who suffers from adult acne, I decided to buy this product for two reasons : to take care of my skin now to prevent it worsening in the future, and to be done with my acne once and for all.
The person who introduced me to Nu Skin explained the miraculous effects that LumiSpa had had on her own adult acne. And after seeing her skin free from even the slightest sign of blemishes, I was convinced! And since then I haven't looked back, because I noticed results in no time at all! 🥰 I think these before/after photos speak for themselves :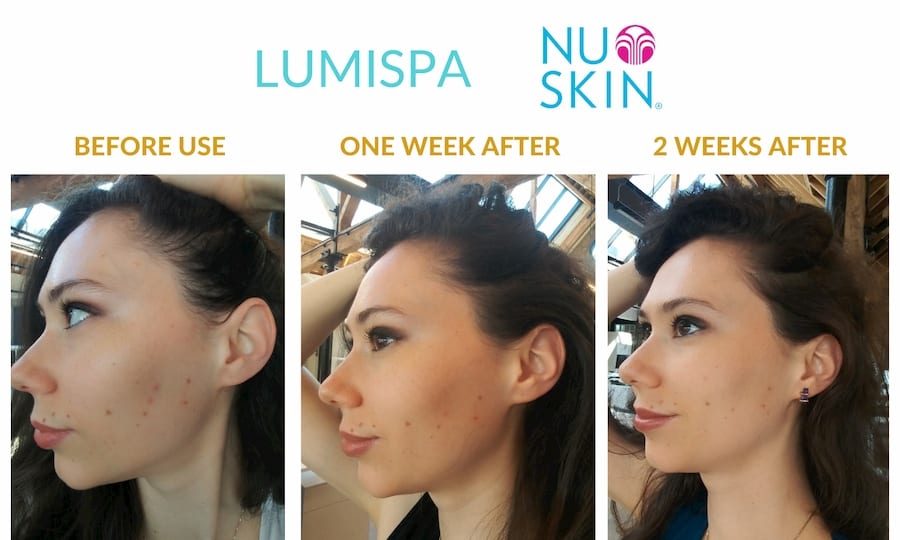 I can also share my sister's reviews and results with you.
She has had severe adult acne for years and has so far refused to purchase the LumiSpa.
It took me a year to convince her! And god knows she's a beauty addict. She was saying it won't work, that she had tested everything, that it was too expensive…
She finally cracked, and 5 days later, she sent me a before / after telling me that she would never be able to live without her LumiSpa anymore! 😜 The photos in question…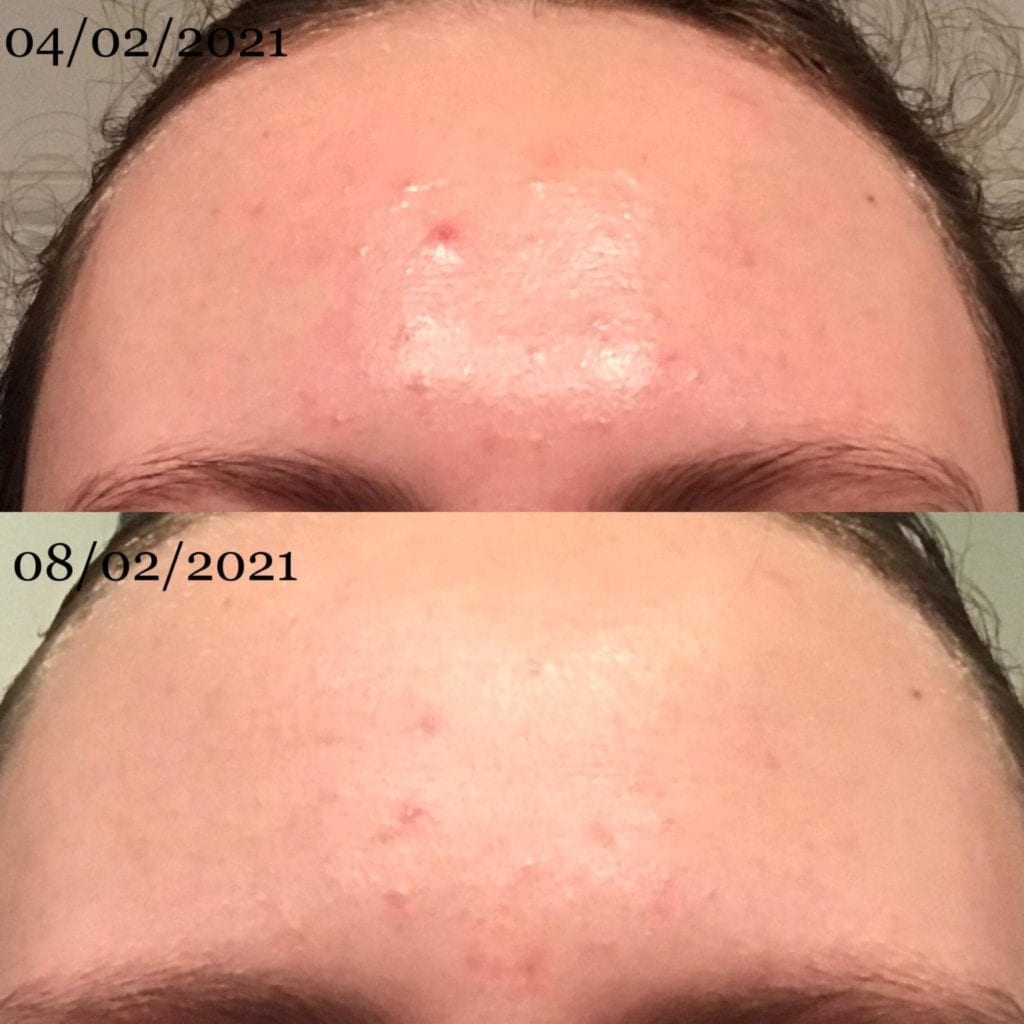 💰 She also told me that she doesn't consider the LumiSpa as expensive anymore, given the results and the savings made on other products that she no longer buys because her skin is so beautiful and doesn't need as much care as before.
Customer reviews of LumiSpa
I've lost track of the number of my clients who have also fallen in love with this cleansing brush! You can see one example in this screenshot from a conversation with one of the people who has purchased the LumiSpa through me :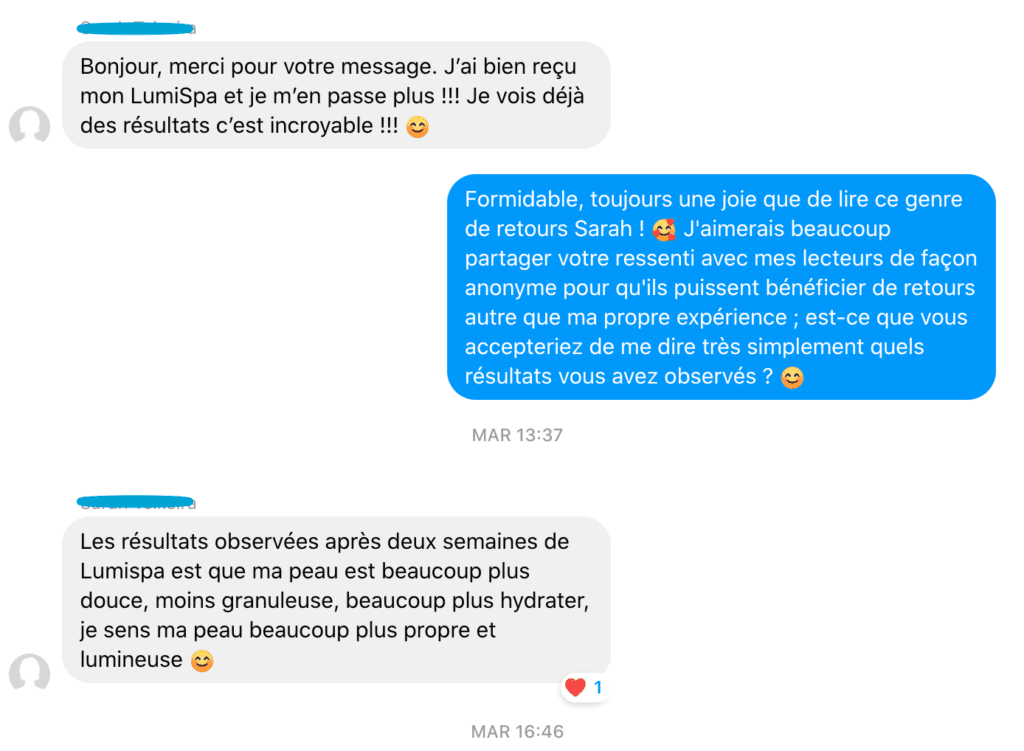 Translation:
Her: Hi, thank you for your message. I have received my LumiSpa and I can't do without it!!! I can already see some results, that's amazing!!!
Me: Fantastic, that's always such a delight to read feedback like yours Sarah! I'd love to share your experience with my readers so they can benefit from other feedbacks than mine. Would you be ok to tell me what are the results you've seen so far?
Her: The results I had after two weeks using the LumiSpa are a much smoother skin, less rough, much more moisturised, and I can feel that my skin is much cleaner and radiant.
How to order your LumiSpa in the US
Click on "Accept invitation"
Fill in the short form…
Voilà! All you need to do then is choose the LumiSpa kit with ageLOC that best suits your skin type!
Do you have any other questions? Do you have a LumiSpa kit and want to share your experience? Leave a comment below! 😄⬇️
⭐ How to use the LumiSpa?
That's very simple and no time consuming at all! You just have to apply the Nu Skin cleansing gel on wet skin and use your LumiSpa for two minutes, twice a day. For more details, head to this blog post.
🤔 Can I use my LumiSpa with another cleanser?
No, you can't use any cleanser with your device. ageLOC LumiSpa Activating Cleansers are specifically formulated for use with the Nu Skin facial cleansing brush. They are the only formulations tested and approved to deliver the full system benefits.
🛍️ Where to buy the LumiSpa?
You can buy your LumiSpa with me and I would be more than happy to have you among my customers! For that, you just have to open a Nu Skin account through this form. And my clients, I pamper them! 🤗 Here is an overview of what you can benefit from me:
Free personalised support for getting started with your Nu Skin technologies and products recommendations according to your needs.
Access to the private Facebook group for Nu Skin fans where you'll find lots of tips, before/after photos and a real community to chat.
Access to Zoom meetings organised by Nu Skin professionals to discover the products through demonstrations and testimonials, and ask all your questions.
Don't hesitate to reach out to me on chloesjourney@outlook.fr to request all your benefits and ask any questions you have!